FINEST FINISH BLENDS
Stimulate your imagination bring your swimming pool project to life
Universal White Cement has developed the superior products known as Finest Finish Blends™ and Universal Mini Pebble Interior Pool Finishes which continue to be the choice the industry's best Applicators and Pool Builders.
Designed recipes are given to our applicators with carefully crafted combinations of Universal White High-Performance Cement, aggregates, colored pigments, Jewels for Pools Glass Blends™, and abalone.
The natural pebble aggregates used in our products are delicately smoothed by nature along beaches, in rivers and in mines, for example. This gives their surface a textured finish that is non-abrasive and very pleasing to the touch.
A full range of options for each series is available by clicking on any of the images below.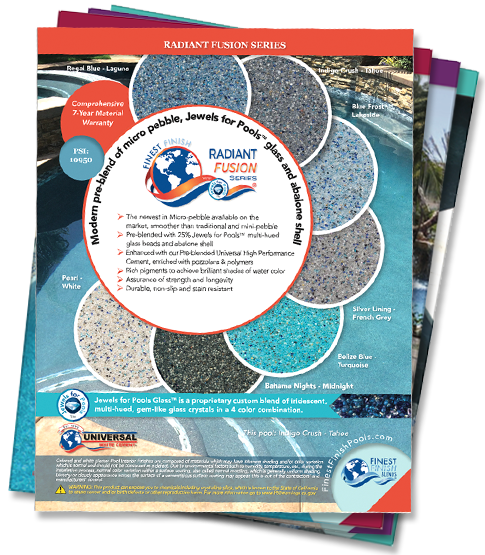 Our Swimming Pool Finishes
Finest Finish Blends Micro Pebble Collection
Ultra smooth preblend of micro pebble with abalone and Jewels for Pools Glass.
Universal Mini Pebble Series
Smooth, naturally-tumbled mini pebble, with Jewels for Pools Glass option
Finest Finish Blends Plaster & Quartz Collection
Plaster and Quartz collections offer a range of smooth and textured, traditional options. Choose high white 100% marble blends, 100% quartz blends or 50%/50% marble/quartz finishes which can be used in both residential and commercial projects.
Finest Finish Blends Polished Series
Polished pre-blend of pebble aggregate, colored glass and abalone shell.
Finest Finish Blends Quartz and Mini Pebble - Texas manufactured
These blended formulations are manufactured in Texas and include from 100% quartz to mini pebble with 40% Jewels for Pools Glass and abalone.